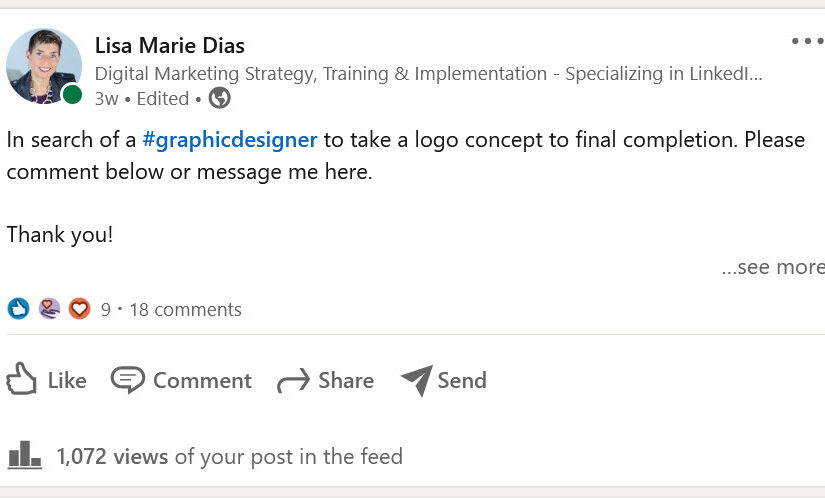 This post will show you how to find leads on LinkedIn and explain what to do once you find them!
A client that I am working with, is starting a new business. We are working on everything from strategy to branding and everything in between. These are great projects and I am usually able to reach out to my partners to do any work that I will not do myself.
I work with a number of graphic designers but didn't have anyone that was a good fit for this job, right now. So, I headed to LinkedIn where I was confident that I would get a good number of applicants. Boy, was I right!
This post will show you how to find #leads on #LinkedIn and explain what to do once you find them!
Click To Tweet
I posted this request Monday evening (NYC time):
In search of a #graphicdesigner to take a logo concept to final completion. Please comment below or message me here.
Thank you!
By the next morning I had 12 responses.
3 days later, I was still receiving replies, direct messages and invitations to link. The post has had over 1,000 views and I had to update the thread to say I had enough applicants.
In this case, I WAS THE LEAD. I was looking to hire someone and those who were checking their LinkedIn stream regularly, found my post and responded.
So, how can YOU find leads on LinkedIn?
1. Know what a lead looks like for YOU
If you do logo design, be sure you are keeping an eye out for people looking to create a logo. This may be a very broad group as it could range from business owners to an individual looking for a personal reason like to brand their organization or a sports team. You might also reach out when you see poorly designed logos or content that is not well or properly branded.
For a florist, you might look for people talking about births, birthdays, marriage plans and/or funerals.
And not only do YOU need to know what a lead looks like for you, but you should let everyone else know this as well.
In my case, if you or anyone you know needs help with LinkedIn, please pass my contact info along to them. Make sure your friends, family, colleagues and connections all know who is a good fit for YOU and ask them to pass your info along.
Bonus points for clarifying who they are looking for and keeping an eye out for leads for them as well!
2. Know and search regularly on the terms prospects will use
If you do logo design, be sure you are regularly searching for posts with those words as well as 'graphic designer', 'branding' and any relevant terms that a layperson who needs your services might use. I say 'layperson' because we don't necessarily want to use technical terms from your industry, but the words a prospect would use. This is especially true with doctors as it is unlikely that someone with a 'toothache' will be posting using the medical term 'odontalgia'.
The key is to know YOUR ideal audience and the words they might use when looking for you.
3. Include those words in your profile as well.
I didn't bother to search for graphic artists as I was confident I would have a good response to my request but others might not want to open themselves up to the barrage of messages and might prefer to do some covert investigation on their own.
Use the search bar in LinkedIn and then narrow the results to 'people' to find people that might be able to help.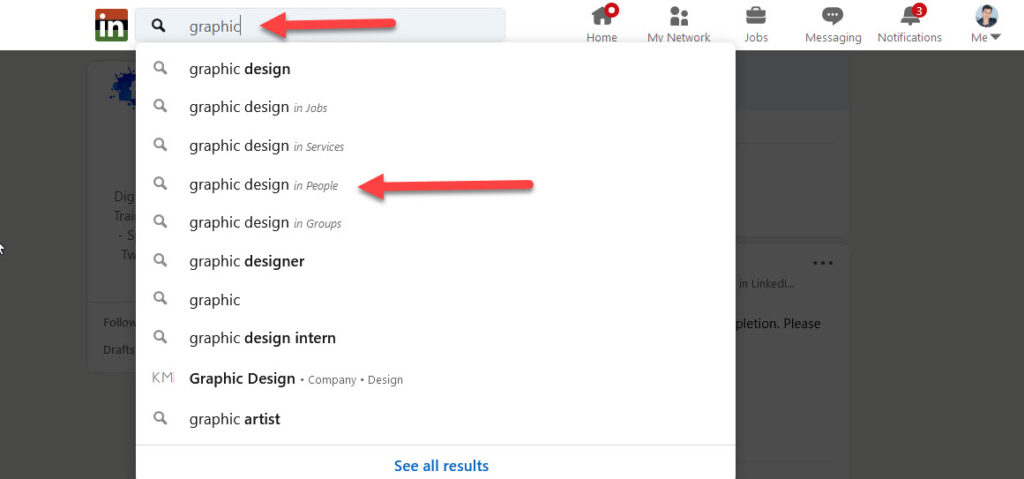 4. Know which hashtags are used in your industry and be sure you are following them.
Had I not done any research, I might have only used the hashtag #graphicdesigner in my initial post. That hashtag has 52,140 followers. Interestingly, #graphicsdesigner has another 800+ followers so I included that one as well. That seems like a misspelling to me that I would not have thought of using but by doing a little research, I was able to find a number of similar terms.
Had I not received enough of a response, I might have added others such as #graphic #designer or even #logodesign. Funny enough, there is a misspelled #logodesinger hashtag that has 178 followers that I might have considered as well.  Note that there is a #logodesign AND a #logodesigns hashtag – one has SIGNIFICANTLY more followers than the other (44,000 vs 18,000) so do some homework and increase your visibility!
I personally feel that typos and misspellings make posts look less professional so you may want to spell it correctly in the post and then include the misspelled version as a hashtag at the end.
Click here for a list of posts that talk more about #hashtags.
5. Check regularly for leads.
My request was posted in the evening, NYC time. The first dozen people were mostly from India and Asia as the time difference worked in their favor (it was early morning there). The next day, I did start to receive local timezone and eventually, western timezone respondents as well.  That said, I had more than enough by the end of the day and was closing the post the following day due to the overwhelming response. If you saw that post on day 3 or 4, there was no longer any need to reply. Earlier birds had snatched that worm.
To increase your odds of finding LIVE leads, be sure you are checking regularly!
6. You do NOT need to pay for this type of exposure
The hashtags and keywords got me almost 1,000 views fairly quickly and without paying. Definitely try this before paying for ads!
7. You do NOT need to be directly connected with the lead
Some people used their inmail credits to send a message. I would suggest sending an invitation first (rather than incur the expense or waste an inmail credit) but make sure if you do this, to include a note in your invitation to explain that you are connecting per the job opening/offer/etc.
Of the people who sent invitations to link, I did connect to many of them. I have no problem un-linking with anyone who spams me so I usually try to be open to new connections. I suggest you do the same on platforms like LinkedIn. On others, like Facebook or Instagram, you may not want to connect to people personally, so be prepared to share an email address. I highly recommend AGAINST sharing a personal phone number.
I DID check our mutual connections, to see who we both know, when I accepted invites and this might be a factor, though lightly-weighted, in my choice of who to follow-up with. If this were a higher stakes interaction – for example, if I were hiring someone full time or looking for a financial advisor – I would certainly have asked for recommendations and in that case, probably would have reached out to those people we both knew, to get their thoughts on the candidate.
8. Be ready to respond
I was asking the designers to send me a link to their logo portfolio, their logo package deliverables and pricing info. Quite a few were unable to send this in a timely manner. Those who DID send it, became contenders.
One woman sent a link to a portfolio that looked, on my desktop, to only have 2 logos in it. There was a lot of other stuff, but it seemed light on logos and I mentioned this to her when she asked if she was being considered for the job. She took the time to explain that each of the 2 logos linked through to a series of other logos. I happened to receive that response while out of the office and sure enough, on my phone, a slider feature was visible that I could not see on my desktop and I could see a lot more samples.
Not only was I able to see some images I liked, which put her back on our shortlist, but her perseverance and follow-up was a real plus. I now knew that this was someone who paid attention to detail and had good follow-through – qualities I certainly value in a consultant and partner.
9. Check your links and have others confirm they work
Yes, your portfolio should look great on YOUR computer but you need to be sure that it looks good on other devices and operating systems as well. My guess is that the pop-up blocker on my desktop browser caused the problem with the slider application that designer was using. Make sure you have friends and colleagues test your links on as many devices and operating systems as possible to identify and rectify any possible problems.
In the past, I have had people send me links with typos or other issues that preclude them from working. Sometimes I have time to let them know but other times, I might not bother. When you are trying to find leads on LinkedIn or any other platform, you want to make sure that everything you send is working, is on brand and represents you as well as possible.
These tips will show you how to find leads on LinkedIn as well as most of the other digital platforms. If you need help finding leads, identifying the hashtags to use or in preparing to respond to leads, give me a call at 212.664.1872 or email me at LMD@LisaMarieDiasDesigns.com – I would be happy to help!