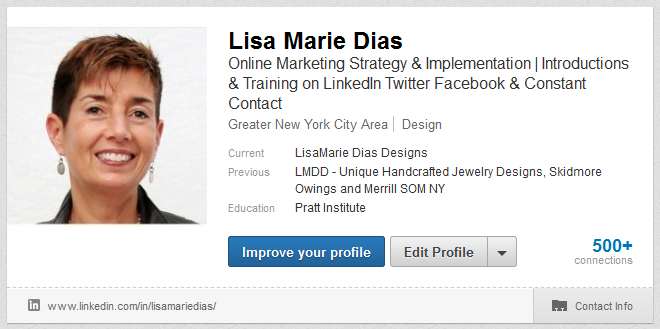 LinkedIn, with over 225 million members, is THE place to find, meet and stay connected with professional colleagues. It is also an excellent platform for establishing your expertise, to gain insights on your network connections and your competition, to find a job or job candidates and most importantly, to find leads. While you can easily sign up for LinkedIn and use it's functionality with a basic profile including only your name, I highly recommend taking full advantage of the site by creating a full profile. Not only will this help people find YOU when they are searching for the products or services you provide but when you reach out to link to people, they will find enough information to decide to link and work with you. Remember, even if YOU are not using LinkedIn regularly, many of those 225 million professionals ARE, so be sure to have a full professional profile ready for when you come up in a search!
When creating a LinkedIn Profile, people often think of it as a digital resume but it can be SO much more. Here are some tips on how to optimize your LinkedIn profile.
Be sure to include:
A headshot – I often tell people that having a LinkedIn profile without a photo is like going to a live networking event with a paper bag over your head.  The photo will be cropped square so it really will only include your head and maybe a bit of your shoulders. You can upload a JPG, GIF or PNG file, up to 4MB file size,  minimum 200 px X 200 px up to 500 px X 500 px in size.
Use a professional shot, not a photo of you at the beach (unless that is appropriate for your business) or with birthday hat on (again, unless you do kids birthday parties) and try not to use a photo that is cropped from a larger shot that still shows someone else's hand around your shoulder or a portion of someone's head next to yours.
Keywords are how you are found online – we want to include the words that other people will search on, in all sections of your profile, so they find YOU. Think about the words that your customers, clients or patients would use, keeping in mind that they may use layman's terms that are not necessarily the professional terms a colleague would use.  For example, you may be an expert in the area of Rhinoplasty, but someone searching for your services might use the term 'nose jobs' – include both versions if necessary.
Create a keyword -rich headline. It does not have to be 'President XYZ, corp' but can include a description of what you do. Mine currently says, "Online Marketing Strategy & Implementation | Introductions & Training on LinkedIn Twitter Facebook & Constant Contact". Note that I have had to abbreviate and leave out some punctuation in order to make it fit. You may have to do the same. The idea is to use this field to explain what you do and to include keywords wherever possible.
A brief summary of what you are doing now and the type of work you are looking for. Remember to include keywords in all examples. If you have your own business and/or are not looking for work, use this section to explain how you serve your clients/customers/patients and identify the traits which help you stand out in the crowd of colleagues. This does not have to be a dry, resume-like recitation of your experience but can be written as prose and/or a bulleted list.
Any skills you may have related to the positions you hold or want to hold. Again, think keywords and include both technical and layman's terms if appropriate. As you start adding these to your profile, LinkedIn will make 'auto-suggestions' showing you the terms they know (from their immense data bank) that people search on. Those terms are also showing up as 'auto suggestions' when people are searching so it is best to include them whenever possible.
 A list of past work experience, including dates, and a short, keyword rich description of what you did. Note that you will need to include dates for every position you list. Do not feel obligated to include EVERY job you have ever had and if you are a recent graduate, be sure to include any internships or co-ops here.
If you have any publications or papers you have written, you will have the opportunity to include them in your profile. Have digital versions ready for upload or have the URL addresses to link to them.
You will also have the option of adding a portfolio using Slideshare or the portfolio application in LinkedIn. Gather your work in advance so you will be ready to upload to their formats.
You can upload images as well as video to your experience and summary fields as well so gather any company logos and/or videos for those locations.
Your education experience should be listed. Note that you do NOT need to include dates of attendance.
 A list of any awards or recognition received with dates and a brief description. You can include personal as well as professional awards though there will be a separate section for your volunteer work so if the award was related to your Boy Scouting service, you may wish to include it there, instead of here.
Any volunteer work you do/ have done recently. Note that many of the more popular service organizations like Boy Scouts or Habitat for Humanity will allow for you to include a logo. I highly recommend including these as you never know who is also a dedicated volunteer to these services and it can help break the ice or close a deal!
Any languages you speak and the proficiency level
Any licenses or certifications you may have.
You have the option of including your academic grades but I do not suggest including this info unless you are a recent graduate.
Any organizations you are currently a member of, or past membership, if relevant to your current goals. This is also a good place to include any references to Greek Life (fraternities/sororities).
There is also a section for 'Interests' – this can include anything you want though keep in mind that this will be viewed by other professionals so beer pong may not be appropriate. That said, if you enjoy hang gliding or extreme skiing, including that could be a great ice breaker when meeting someone!
Not EVERY section will be relevant to YOUR profile and you do NOT need to do this all in one shot but ideally, each of the relevant areas should be addressed in order to best optimize your LinkedIn profile. Once you have gathered all your information, log in to LinkedIn and go to the 'profile' tab and then 'edit profile' tab in the drop down menu to edit or add each section as relevant.  Note that you are able to re-order the sections so if you are a recent law graduate with excellent Board scores, you may want to shift that section up closer to the top of your profile while someone with many years of advanced experience would shift that info to the top of their profile. To shift a section, you use the 'up down' arrows visible when in edit mode.
If you need help with any of this, would like assistance with creating keyword rich summary and job descriptions and/or would like to learn how to use LinkedIn to grow YOUR business, please call us at 212.664.1872 or contact LI@LisaMarieDiasDesigns.com to set up a time to optimize YOUR LinkedIn profile.
Looking to optimize the time you spend on LinkedIn?
Click here for more articles on using LinkedIn to grow your business and visit my LinkedIn Resources Board on Pinterest for additional tips and resources.