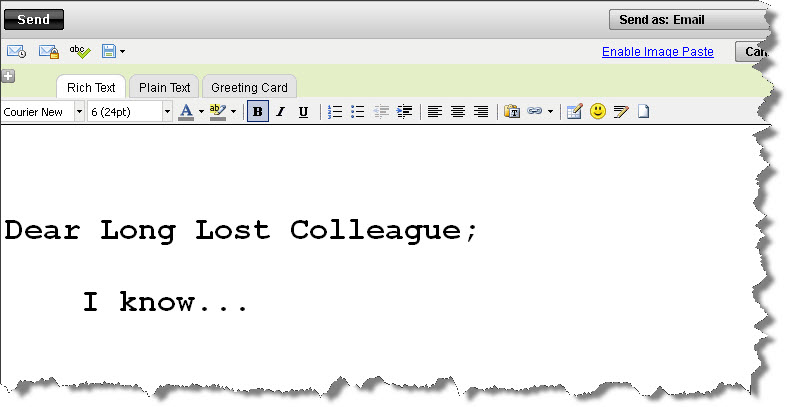 Dear Long Lost Colleague;
I know that I have, over the past few years, ignored your emails, LinkedIn invitations and attempts to network.  Now that I am out of work and desperately looking for a job, I am very interested in re-connecting.  What kind of job do you have now?  What can you do to help me?
I will only be replying to job offers so please don't be offended if I do not reply to you.
OK – so maybe it wasn't be quite this blatant but how many of you have received emails like this one?  Hopefully none of you have actually sent one like this!  But you know the sentiment.  And on some level, you can relate.  They need a job and you might want to help. But this is NOT the best way to network, never mind to find a job. Don't be this guy!  Build and nurture a network on LinkedIn now, before you need it. You will not only be able to keep in touch with people so they are never quite 'long lost' but you will know what they are up to and more importantly, they will know who you are!
Consider how much more effective this note would be:
Hey Dave!
How are you and the family? We are doing well.  Was great to see you all at the Alumni Golf outing in May.  And I saw that you received that promotion last week – congratulations! 
I am reaching out as I am looking for a new position and wondered if you might be able to introduce me to Alexa Rodriquez, in your Boston office. It looks like she is looking for someone to help in the consumer electronics division and you know that is my specialty!  Here is a link to my LinkedIn profile which includes my job experience, skills and a number of positive reviews of my work.
Any help or suggestions would be greatly appreciated!  And please give me a call when you have a minute, would love to touch base.
Thank you in advance,
Here are easy 5 tips to building an effective LinkedIn Community:
1. Create a comprehensive profile, complete with past experience, skills and recommendations. This is not only helpful for people trying to remember who you are but also useful when they are searching for someone to fill a position and to pass along if they know someone that might need a good job candidate.
2. Re-connect with old colleagues, employers, coworkers and friends. Check their LinkedIn profiles and past updates to see what they share.  While you may not necessarily want to link to EVERYone you know, if they are someone you would like to network with professionally, I suggest you invite them to connect. A deep LinkedIn list can be helpful when/ if you are ever looking to make inroads into a specific company or are in the market for a new job. You never know who might know someone you may want to connect with in the future.
3. Identify industry leaders and people that are sharing interesting and important information in your field.  This is easy to do by inserting industry specific keywords in the LinkedIn search bar using the 'people' and 'update' settings.  This will identify people that have used these words in either their profile or in their status updates.
4. Regularly post content and share articles and information you find that will be of interest to those that are linked to you. You do not need to create all of this content yourself, you can also share information that you have come across that you think your community would find valuable, helpful and/or, on occasion, entertaining.
5. Visit often. Read through your newstream regularly to see the updates your links are posting and try to 'like', comment on or share them. Visiting even once a week and scrolling down to see past posts can enough to keep you up to date.
Plus a bonus:  Generously connect and introduce people. LinkedIn is like a virtual networking event – if you were sitting at a table with some new people and heard them mention that they needed services that a friend offered, you would probably make a point of introducing them – something both parties would probably appreciate greatly.  Remember to do this virtually on LinkedIn as well.
Be an indispensable connector and a go-to person who shares content of value in your industry.  Build your community BEFORE you need their help. Don't be 'that guy'!
Want to learn more LinkedIn Tips, Tricks and Tactics?  Join us Tuesday, November 15th at 1:00 (ET) for a 60 minute Webinar that will help you make the most of your time on LinkedIn! Click on the link to register today and please pass this post along to anyone that might benefit from the advice!
http://events.constantcontact.com/register/event?llr=okdo79bab&oeidk=a07e53sxwpd0793efcc
Looking to optimize the time you spend on LinkedIn?