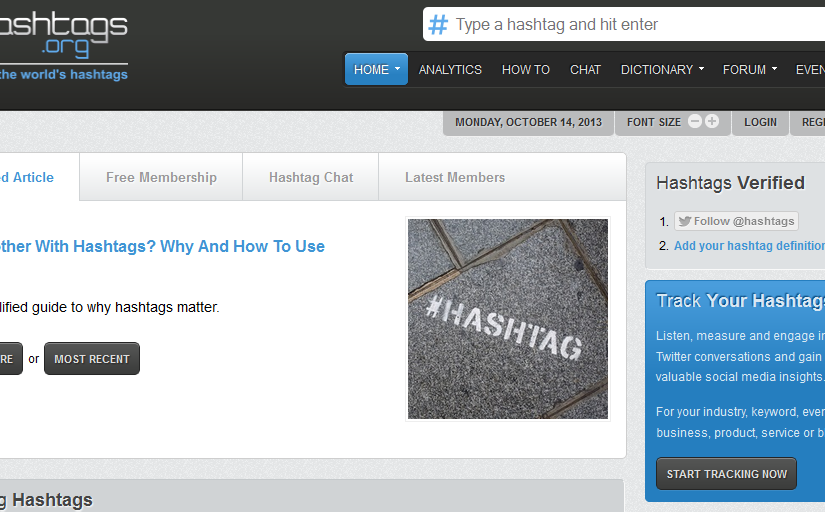 Thank you to Craig Chapman of CBA Empire for this great question:
"I am at a tradeshow; everyone is talking about hashtags on Twitter, how can I use them too?"
Hashtags, the '#', 'pound symbol' or 'number sign' key on your keypad, are used to aggregate and follow information on Twitter. They were created organically by Twitter users in an effort to sort and label tweets and can be used in a number of ways:

To participate in an ongoing conversation or attract the attention of a particular industry. For example, in the customer service arena you might find people using the #custserv hashtag as shown here:
Think outside the customer service box – @KateLeggett with step seven in bettering your #custserv: http://forr.com/ukAIgP.
Tech and other types of conferences also use these symbols to encourage participation in their events and to allow people to attend 'virtually' by following the information and links posted by the attendees. It is also a great way for a conference presenter to ask questions from the stage and get quick input from the audience.  I was at one conference where they were streaming a live Twitter feed of all tweets with the event hashtag.
#MuseumNext deadline for submitting a proposal is December 15th museumnext.org/conference/cal…
To announce failure – #fail is one of the most poplar, continuously used hashtags – for example:
Absolutely hilarious – & scathing – a lethal YouTube combination: how to #fail social media strategy 101 #QantasLuxury
Hashtags are hyperlinked to the Twitter search results for that keyword, meaning that you click on the tag and it will pull up all the current tweets that include that term.
You can use them yourself in a number of ways; to learn about a topic, to promote an event, to let others know you are at an event, to make people aware of what you are doing at your booth and/or during your presentation at an event and to add your thoughts and comments to the discussions around that topic.
Twitter posts 'Trends' each day, in the right hand column of the Twitter.com interface; many of these will have hashtags. For example, as I am writing this post, #TheBestThingAboutThanksgiving is a hashtag and a trending topic. If you are starting one of your own, you may want to keep it shorter as these DO count towards your 140 character limit!
The first step for someone like Craig, who is attending a tradeshow, is to identify the tags being used.  Listen at the keynote, ask fellow attendees and/or search on Twitter to see if there are any posts and hashtags around your subject or event. Good conference organizers are establishing and sharing hashtags on registration info, badges and from the stage. Like in the example shown above, conferences are establishing hashtags as early as the RFP stage of the event and re-using successful tags from the previous year's events.
In Craig's case, people were using the #CETW and #digitalsignage hashtags as in:
At booth26 at #CETW loving the #digitalsignage
There was also a Twitter account, @CETW, that people could follow – though they didn't seem to have taken advantage of the opportunity to post very much.  Attendees, on the other hand, were actively tweeting with hashtags.
I suggested that he should do the following:
Include one or both (if space permits) of the hashtags in his tweets so that those people searching on those terms would find him and his content.
Search on those two terms on Twitter to aggregate the tweets using those keywords and reply or re-tweet where possible
Check the profiles of the people using the hashtags. He might want to consider 'following' some of them if they looked interesting
Keep an eye out for any mention of a 'Tweet-up', a live gathering of people tweeting on a specific topic.
I also mentioned that, if he was using Twitter.com on a PC or Mac, he could 'save' that search so he could jump to it whenever he had a chance to visit. To search, he would just  type the keywords in the search bar and to save the search, he would just click on the button with the white plus sign on the green circle that says 'Save this search'.
To find hashtags being used in your industry you may wish to check http://hashtags.org
Have YOU used or established any hashtags?  Have you found them helpful?  Please tell us in the comments below or on my FB page at www.facebook.com/lisamariediasdesigns
Please follow me on Twitter at @LisaMarieDias and follow my Twitter Resource Board on Pinterest for more tips on making the most of your time on Twitter
Want to learn more about Twitter?