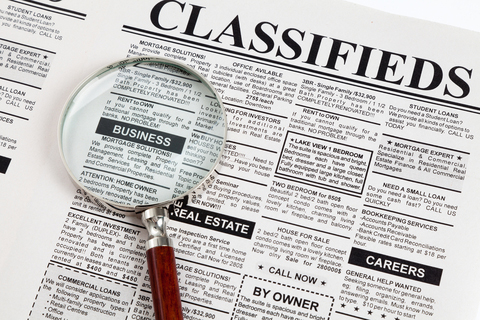 If you are a job seeker, I highly recommend networking actively to get the word out and aggressively checking for listings in all media.  But when it comes to LinkedIn VS Classified Ads for job search, LinkedIn is the clear winner.

[Tweet " When it comes to LinkedIn vs. Classified Ads for job search, LinkedIn is the clear winner"]
Here are 5 ways that LinkedIn is better than Classified Ads for finding a job.
The quantity of information posted on LinkedIn regarding a job opening is usually much more extensive.
Job listings include hot links to let you learn more about the company posting the position.
Often, there will be a hot link to the point person at the company to contact regarding the position. That link can help you determine who you may know in common and if you went to the same school. This intelligence may be helpful when crafting your introduction or submitting recommendations.
LinkedIn job openings are updated regularly (unlike print ads)
Having a complete LinkedIn profile and actively participating in groups will help prospective employers find YOU
If you are a job seeker it is ESSENTIAL to have a professional profile and an active presence on LinkedIn. Click here to learn more about our LinkedIn services and check our calendar of events to see if we have any upcoming LinkedIn programs. Job Seekers are welcome to attend out "Harnessing the Power of LinkedIn" webinars free of charge (contact us at LI@LisaMarieDiasDesigns.com for details and access info)

Looking to optimize the time you spend on LinkedIn?