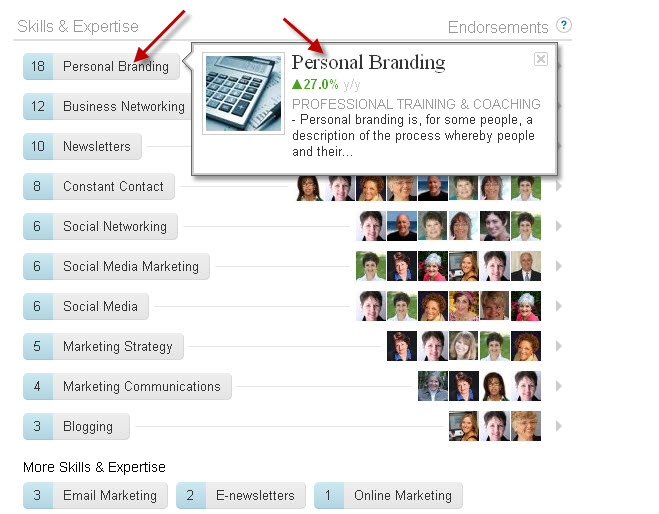 Recently, LinkedIn has added a feature to allow people to 'Endorse' the skills you have included in your personal profile. (See this post for more on how and why to use the Endorsement feature) But as a colleague recently pointed out, if your skill section is not up to date, you may be receiving endorsements for outdated or no longer appropriate 'skills'. Or, worse yet, if you have no skills posted, you are not getting endorsed at all!

I have also noticed a number of inappropriate or just plain weird skills that I am being prompted to endorse. Like 'Water' by someone who was neither a Hydrologist, a lifeguard nor a health practitioner.
Some people think that since they once updated their profile with 'Specialties' they do not need to bother adding this section but the 'Specialties' section is gone. Yes, LinkedIn could have done a much better job letting us know that and suggesting that we now list these specialties as skills but hey, this is why I can blog almost daily, just to help you guys stay on top of all of this.
In order to make the most of your LinkedIn presence, you should always include as many relevant Skills as possible. You are allowed to include up to 50 – try to make sure that you have at least a dozen. These are KEYWORDS – and you know how important those are, right? If not, definitely go back thru my blog archive for more info!
LinkedIn is also aggregating information about each of these keywords.
Click on any 'skill' in your own profile (or that of anyone you visit). You will see a small info box pop up. This is the description that LinkedIn associates with the skill.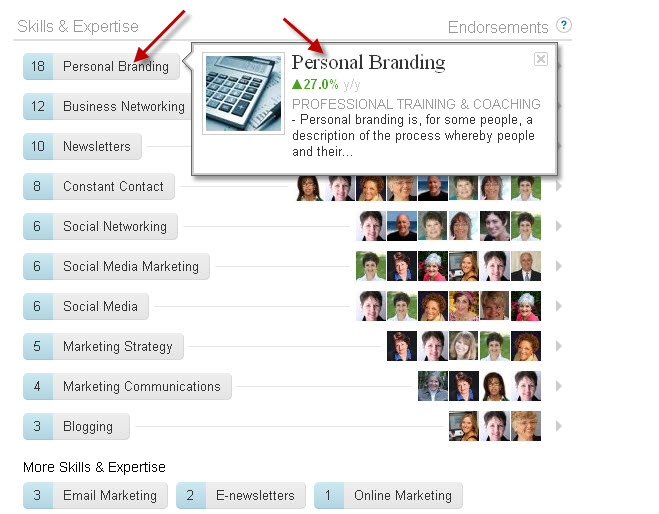 Click on the skill heading and you are taken to a page with a list of the people who have indicated that they have this skill
You can be sure that if someone is looking to hire someone with a specific skill, they WILL be using this tool. It will be immensely helpful to you, as well, if you are looking for potential employees.
To add a skill to your profile, go into your LinkedIn account. Go to 'profile', 'edit profile', scroll down to the Skills and Expertise section and then click on 'add a skill'
If you do not see this section (I have seen some profiles without it), go back up to the 'add sections' link and add the section, then go in and add the skills.
When you start to type in a skill, LinkedIn suggestions will populate a drop down menu of options.
I suggest picking one of the choices, as these are categories that LinkedIn has already established and is aggregating pages for. It is also the list that they will suggest to people who are searching – if you want to be found for a skill, I suggest using one of their suggestions.
You DO have the option of creating your own skill – one that is NOT on the list. There are two schools of thought here – it is a way to rank highly for a very unique skill such as 'Underwater brain surgery' or something truly unusual but you have to consider, is someone really going to be searching on a term like this?
These highly specific terms could be part of a 'long tail' strategy (See this article and others for more on this concept). But if you are not consciously attempting something like this, I suggest sticking with the suggested terms.
When adding skills, think about the skill set that makes you valuable to your employer and/or your clients/ customers/ patients. I have included newsletters (I am an e-newsletter evangelista!), social media, blogging and more. Interestingly, you can list them in any order you want to but the ones that are most 'endorsed' will come to the top of your displayed list.
When you are asked to endorse someone (and lately, every time I visit a profile, I am asked) make sure that you READ the note, see what the skill is – think about whether you have any experience with this person displaying competence with this skill. Sometimes, people have had previous careers and have listed skills from a past life. That is fine, someone may have useful skills from that time period that are still relevant. Scroll through their list til you see a skill you CAN feel comfortable with. Sometimes you are even given the opportunity to suggest a skill they should add.
But this whole feature is only going to be valuable if people use it honestly and wisely – if your lawyer includes the skill 'water', please do not endorse them for this nebulous feature – maybe suggest something more relevant. And please send them my contact information – they definitely could use my help!
Call me if you are not sure what terms to add or if you need any help optimizing your LinkedIn profile!
Ready to learn more?