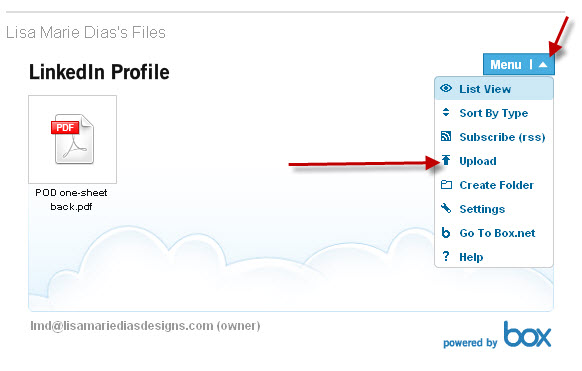 A client wrote this week to ask, 'How do I upload my resume on LinkedIn?'
First, LinkedIn wants you to use THEIR format and their fields for all your info so there is no real 'section' for this. Your LinkedIn personal profile is designed to be an elaborate, online resume showcasing your work history, skills and experience and including links and multimedia uploads allowing you to connect and shine in ways no paper resume could ever match.
They do offer a tool that will extract info from your traditional resume and insert it into your LinkedIn profile. This tool works best with a WORD or PDF document but it is often easier to just cut and paste the correct info into the various fields yourself as the import tool is a bit awkward.  See this link for more on importing using this tool http://help.linkedin.com/app/answers/detail/a_id/1815
If you still want to include a traditional resume,  another option is to install the Box.net application and upload it there. To install that application, go to 'profile', then 'edit profile', then 'add sections', then keep scrolling down til you see 'Box.net files' ). You will need to sign in to your account or open a free Box.net account (this will take less than a minute!).
Once you install Box.net, you can upload the resume and any other supporting documents. Keep in mind that once you have uploaded it to your LinkedIn profile folder, it will be visible to any users who view your profile.
Note that once you have this section added to your profile, you can upload additional information like your portfolio, published articles, etc. using the menu drop down.
All that said, I usually suggest creating a keyword rich profile, rather than relying on the resume to sell your skills. This is ESPECIALLY important for job seekers as an incomplete LinkedIn profile will undermine your search efforts.  Then, people can find YOU when they are searching to fill a position and if they need any further info, you can follow-up with the traditional resume.
And LinkedIn offers a helpful tool which will create a traditional resume for you, using the information from your LinkedIn profile!  See http://www.linkedin.com/company/linkedin/linkedin-resume-builder-98959/product for more details.

Ready to learn more?