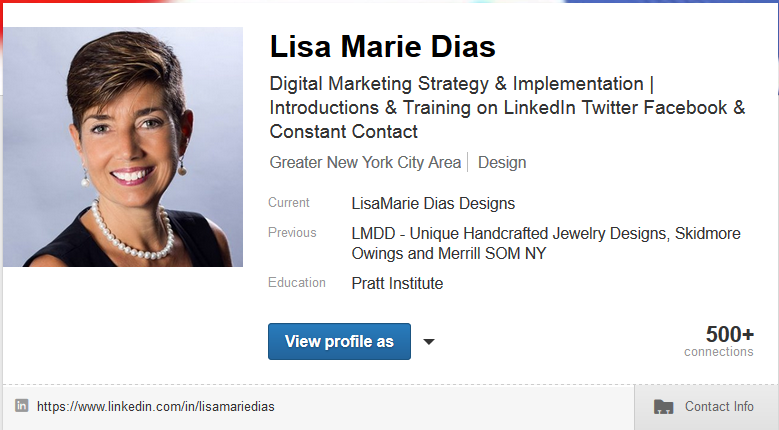 When you first create a personal profile on LinkedIn, they will assign you a URL, a web address, for your page. It usually looks like your name, with hyphens instead of spaces between your first and last names and then a series of random looking numbers and letters.

Here is an example of a page with a basic LinkedIn URL – I have blurred the name but you can see how it is followed by a series of numbers and letters.

But that is a REALLY hard address to remember and worse, it is difficult to share with other people!
To solve this problem, LinkedIn allows you to create a VANITY URL, a LinkedIn address that is cleaner and easier to remember. Oftentimes, you can even get your name!
Here is a screen shot of my Vanity URL on LinkedIn.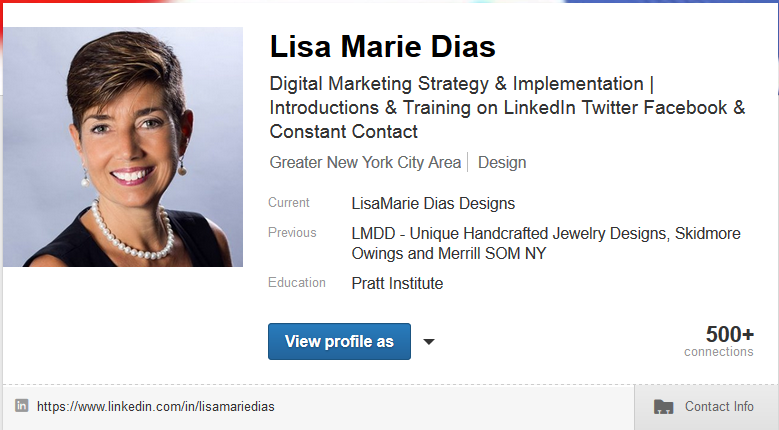 To get your own vanity URL on LinkedIn, follow these simple steps:
Log into your account and go to your profile.
Hover next to your existing URL, under your headshot, and you will see a small gear icon appear. Click this icon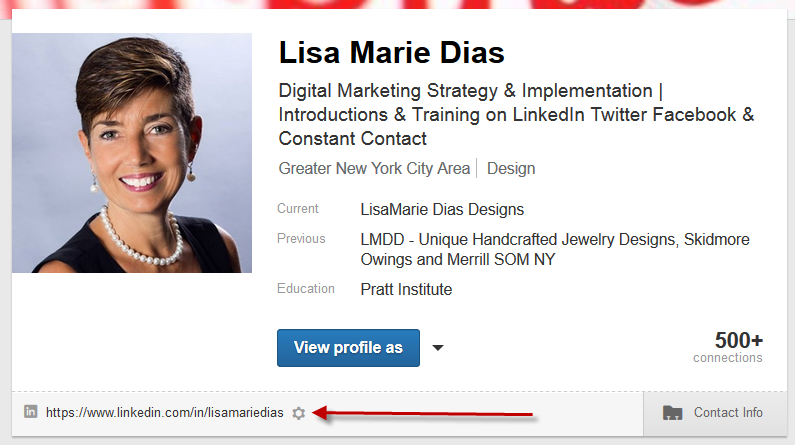 This will take you to new page with the heading 'Public Profile' – click on the pencil icon next to the 'public profile URL' link in the right hand sidebar.

The display will change and you can type in your vanity URL choice.
Try your name first. If someone else is already using that name, try another combination – add your middle name or include a nickname. You can also add numbers.
The Vanity URL must have at least 5 but no more than 30 letters or numbers. No spaces, symbols or special characters are allowed.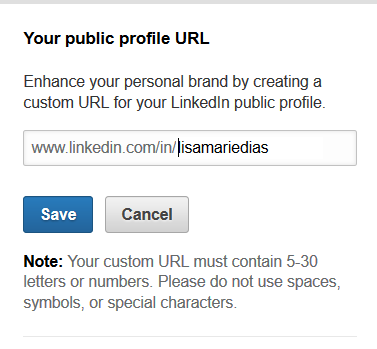 [Tweet "You can create a LinkedIn Vanity URL, a LinkedIn address that is easy to remember and share"]
Once you have your LinkedIn Vanity URL, be sure to include it on your email signature, on your business card and in all of your digital and printed materials.
(Note that this post was updated 3 September 2015)
If you need help with this, or with any aspect of your LinkedIn profile, please give us a call at 212.664.1872, we would be happy to help!
Check this calendar for LinkedIn Profile Optimization session availability – a discounted session where we get YOUR profile up to speed!
Please click here to see a full list of our LinkedIn related services and programs

Do you need help with LinkedIn?