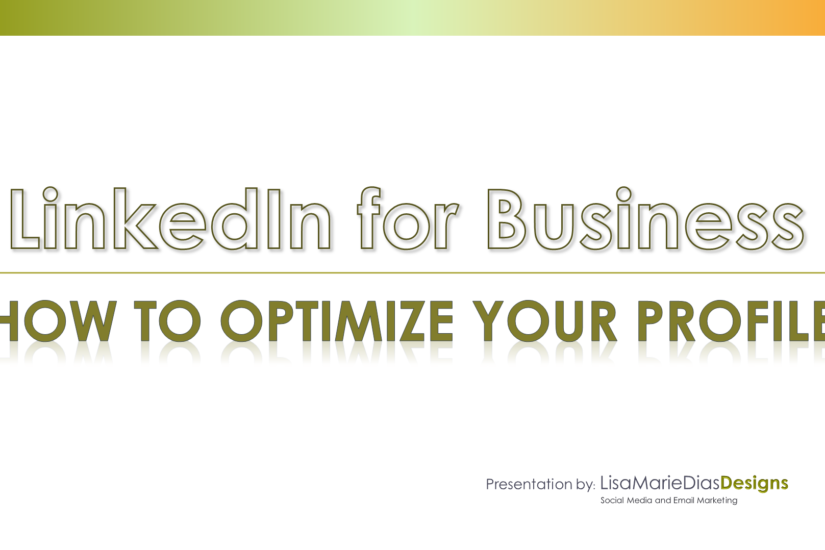 Thank you for attending the FREE "How to Optimize Your LinkedIn Profile" Webinar!
We had over 80 people on the call – hopefully you were able to hear the content and that you found it helpful. Given the positive feedback, it seems like everyone learned at least a few new things!
If you did find this helpful, please take a minute to ENDORSE me for my LinkedIn and/or Presentation skills and/or to write a RECOMMENDATION for the same. Here is the link to my LinkedIn profile https://www.linkedin.com/in/lisamariedias and here is a blog post on How to Write a LinkedIn Recommendation
How to Request a LinkedIn Recommendation – Tutorial with Desktop and Phone Instructions
If the content I covered would be helpful to your company or team, please contact me at LMD@LisaMarieDiasDesigns.com to set up a presentation for your organization. It can be done live (once we are allowed to travel again) and/or via webinar, as was done today.
This content is also available as a WORKSHOP – a half-day program where we cover this content and participants update their profiles DURING the session so they leave with optimized profiles!
I am also available to work with people one-on-one to help you:
Make changes to YOUR profile to make the most of each field
Figure out how YOU can best use LinkedIn to build YOUR business
Create and optimize YOUR profile
Identify the keywords YOU should be using
Find and nurture a community that will help you meet YOUR business goals
Please do keep me in mind if you meet anyone who needs help with LinkedIn and pass along my info as needed.
Here is a link to the SlideDeck – Optimizing Your Profile 2020 – SLIDES for GUESTS
Thank you again for making time to attend, please stay well and stay in touch!