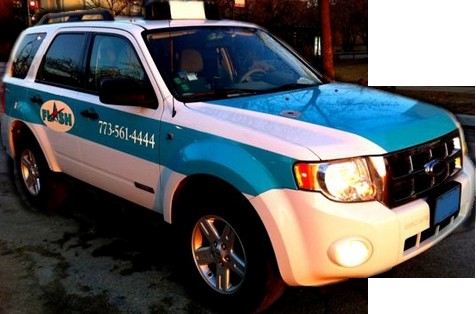 @ChicagoCabbie is the kind of guy who keeps you posted on the current weather and road conditions, reminds you when the museums have free admission and is interested in learning more about you and your business. He is definitely someone to know if you are interested in keeping abreast of all things related to the Windy City. I learned all this, and more, even before I met him, by checking out his very active Twitter stream. After chatting a bit on Twitter and visiting his website, he already felt like an old friend!

I had read about Rashid Temuri, @ChicagoCabbie, in an article online and was intrigued by how he was really USING Twitter to grow his business. The article had detailed how he uses the online microblogging tool to connect with potential fares and stay connected with his customers, many of whom become Twitter friends.  I was interested in how he had gotten started and why it was working for him. I love and regularly use Twitter but as a social media trainer, it is often the one tool that people say they have heard about but don't quite understand how or why they might use it.  Rashid's would be a great case study and I wanted to learn more!
I reached out to him via Twitter first, introducing myself, mentioning the article and asking him if he would be willing to be interviewed. He answered within minutes, just as kind and gracious as I had guessed he would be and agreed to set up a time to speak.  We spoke, via SKYPE, after work one evening.
Just that past week (January 2012) he had celebrated his one year anniversary on Twitter as @ChicagoCabbie. He had been on Twitter previous to that but only minimally – as he said, he was more of a 'Facebook guy' at that time. He had originally become active on Twitter because he found it the best way to keep up with all the news on the Arab Spring and thought that he might use the new handle to talk about and educate people on the cab industry in his city. He saw Twitter as a way to add his voice to the conversation; he really didn't, at the time, think of it as a tool to grow his business.
At first, he didn't have many followers and he spent his time posting about all the things that he would see while driving his shift. There was always news to share, whether it was the weather conditions or the road closures, he was never at a loss for content. He has an active Instagram account which he uses to share beautiful photos of the city he clearly enjoys exploring.
That March, he met @Leyla_A via Twitter. An active social media person who wasn't yet a customer but was interested in what he was doing. One day, after becoming Twitter friends, she tweeted, asking him to pick her up for a ride, which he was happy to do.  She enjoyed the convenient pick-up and the great service and promptly tweeted about it to all her friends. An idea was born.
He is proud of the fact that he has always provided good customer service; he is attentive, always has a clean cab and a friendly demeanor. After that exchange, he immediately, saw the potential to use Twitter as a way to take customer service to a higher level and he seized it!
His network has since grown. Between attending some networking events (Chicago is an active social media town!) and a visit by Nokia where they gave him a free phone and some good publicity he is becoming a more well known. In addition to the article I read, he was also interviewed by the local CBS radio affiliate and recently partnered with @Ramon_DeLeon, a very active, Chicago based Twitter fan and social media visionary, for a fun afternoon delivering pizzas to Twitter fans on the streets on Chicago. He says that now 30% – 40% of his riders are finding him through Twitter.
And once they are in his cab, they are usually converts with about 95% of them becoming loyal customers.  That is a number any business would be proud to claim!  Once passengers have become Twitter regulars, they usually give him their phone numbers and keep in touch via texting. Of his almost 3,000 followers, about 70% – 80% are local, growing out of that loyal core of riders.
When I asked if he knew of any other cabbies, local or elsewhere, that are using Twitter in this way, he said that now, after all the local publicity, he has noticed a few but he's not sure if they will succeed. He underscores how important it is to engage with the people on Twitter, and to provide excellent service. Jumping on Twitter and thinking that 'the riders will start pouring in, is not going to happen.' And if they do get more riders, if they aren't treated well, those riders won't come back. But he does hope that they succeed, as that will mean that riders will be getting better customer service across the industry, which is a win for everyone.
Financially, using Twitter has not made a huge difference but he is, as he says, enjoying it. And he does think that it helps as he is often booked, even during slow periods, thanks to his Twitter fares.
I asked him about the specifics of how he manages his Twitter following. He uses an iPhone (in a fun orange case that he refused to allow me to film!) and has, as he says 'every Twitter app out there'.  He uses Hootsuite, Ecofon and the original Twitter app, using each for slightly different needs usually going back to the Twitter app to tweet. He also takes full advantage of the Twitter 'favoriting' feature, sending those to a feed that appears on his website.
He has a follow back policy where he follows pretty much anyone that is not a bot, or behaves like a bot. He really likes to engage online; bots add nothing to his community so they are not welcome.
I noticed that he uses the Google Latitude tool on his website so people can track where he is when he is on the road. When I asked him how he had come up with that idea, he told me that a rider of his had actually suggested it!
He has a steady stream of (favorited) tweets on the website – it seemed like every rider was commenting and raving about his services. I had to ask, was he asking his customers to tweet about their rides? "No, I don't at all!", he insisted. He does chat with his riders, getting to know them and will usually tell them he is on Facebook and that he offers deals there. Many of them will tell him they are going to tweet about him and he is always happy and appreciative about that, but he doesn't make any requests.
His advice to people that might be considering using Twitter as a business tool? "Don't use it with just a focus on business. If you are going to stay on Twitter and just talk about your business it isn't going to work. It's all about taking it easy, being nice to people and talking about what is going on. Just being a human being, not someone with a sales pitch all the time."  He has a Twitter search he follows on the terms 'Chicago' and 'Cabs' and through that he will meet and tweet with people. Often, he won't even necessarily mention his services. He warns, "the more you talk to people and ask them to follow you, the more they feel it is a forced sales pitch" and that is not his style. He would rather be someone that is really engaged in the community, not just someone talking about his business.
He doesn't like to refer to his Twitter community as followers, which he feels sounds a little cultlike – he prefers to use the term 'friends'. And he says, at the end of the day, it really isn't about gaining followers but about making friends. And that will naturally grow your community.
Twitter is clearly NOT the sole key to Chicago Cabbie's success – he is personable, upbeat and loves what he does. This tool is an excellent fit, amplifying all this and giving others a way to share word of his services socially. This is clearly a man who listens to his customers and builds on their ideas and suggestions.  Another driver might have ignored Leyla's request for a ride, refused to attend local social media events or not listened when a customer suggested a new tool to monitor his location. Rashid is successful because he listens well, is open to new ideas and enjoys engaging with his customers. And those are lessons which can benefit ANY business!
Want to learn more about Twitter?