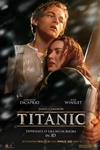 Well, maybe not EVERYthing. Preparation, perseverance and luck can definitely play a big role in your marketing success but timing is certainly key.
Post when your audience is not looking and your comments may go unseen. Decide the day before a big networking event that a nice brochure might be a good leave behind and you may not have the time to make it happen.

Over the past week, here in the US and in the UK, you couldn't turn on the TV or radio or open a newspaper without seeing and/or hearing a reference to the 100th year anniversary of the R.M.S. Titanic's ill fated voyage.  Also released, with much fanfare and press space, was the 3D version of the 1997 movie 'Titanic'.  Obviously, James Cameron, the movie's writer and director, and his marketing people did not decide, at the last minute to make and release this film on the same week as the anniversary.  This must have been a well considered plan. They may have even had it ready long in advance of the date and held it to coincide (if you have any information or have seen any posts about this, please share in the comments below, I would love to hear how this cam about!) Either way, this is a perfect example of timing a marketing event to make the most impact.
You too can use timing to optimize your results.  Even if you are not a Hollywood director, you can probably time your content releases to coincide with a major news event, holiday or anniversary to help generate additional interest and exposure.  David Meerman Scott's most recent book, Newsjacking, is all about injecting your ideas into breaking news stories to generate media coverage but you can tie into established (and not-so-well known) holidays as well.  If you are in Customer Service, plan ahead so you are ready for April which is Customer Loyalty Month or October which is Customer Service Professionals month.  If you are a chef, be sure to have a plan to tie into the local Strawberry festival – whether it is  a special menu, a recipe offered, an interview with the farmer that sources your strawberries or all of the above. Ditto for a CPA and tax day.
Here are 5 things to help you optimize your timing:
Brainstorm so you know your holidays in advance.
Set up an an editorial calendar where you can identify and plot major industry holidays and events alongside your own publishing plans.
Remember, your OWN anniversary and local events can be special occasions – it doesn't have to be a national holiday to warrant attention!
Consider seasonal or transitional times like the new year or 'back to school' if these are important or relevant to your community.
Watch the news and think about ways to tie in whenever possible.
The takeaway here is to create a plan – whether it is an editorial calendar or just a conceptual layout of your business year, so timing can work in your favor.
This is part 1 of a 3 part series about Timing and Preparation – see "When You Have Run Out of Time" and "Be Prepared…" for further advice and ideas!