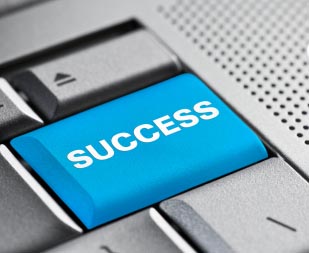 These days, there seems to be app for almost everything. Want to keep track of your business and travel expenses? Find the exact coordinates of the moon rise (an app I learned about from a photographer!)  Catch and collect virtual butterflies? Well, you can find that one in my last e-news  issue.

I do wish that I could send you a link to the app that adds a key to your keyboard like the one in the photo here. One that would, with a single keystroke, bring you instant online success.  But unfortunately, I haven't found one of those just yet. For now, I will continue to bring you tips and suggestions to help you get there on your own!
To help you get there a bit faster, starting this month, in each newsletter issue, I will include a section featuring one of my client's 'Success Stories'. I think that these real-life examples, including actual profiles and e-newsletter samples, from clients of mine that are finding success online, will help YOU better understand how YOU can use these tools more efectively.
The first few segments will focus on clients that have found E-newsletters to be helpful in growing their business.  Across a wide variety of business types, ranging from Interior Designers to College Advisors, Editors to Office Equipment Providers and a mix of other retail and service providers in between, each has found that their E-newsletter has helped them grow their bottom line. They have generously allowed me to profile them here.  Hopefully their examples will help and inspire YOU.
Click here for the first profile: Brenda McMahon of Brenda McMahon Ceramics and here for a sample of her e-newsletter
And I will be keep you posted – rest assured that as soon as I find and app for that key, I will be sure to share it here!