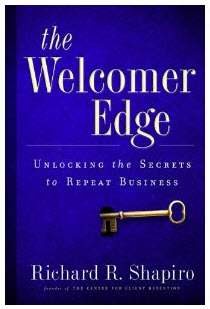 Name: Richard R. Shapiro
Company: The Center For Client Retention
Background:
Richard, through TCFCR, provides research, training and consulting services to Fortune 500 corporations on how to improve the customer experience.  His book, The Welcomer Edge: Unlocking the Secrets to Repeat Business provides businesses with practical, easy to implement suggestions to ensure your company is offering premier customer service and creating customer loyalty.

Richard approached me about a year before the book was to be released. The drafts were being finalized and he knew that he would need to use social media to create awareness and interest in the book but did not yet have an active social media presence.
The Plan:
Since he had a ton of great content – the book is packed with practical tips and valuable insights – we were in a great position, no matter which platform we chose.  Our goal was to create engaged communities on Twitter, Facebook and LinkedIn where he could establish and share his Customer Service expertise and identify potential community members that would be interested in the book once it was available.
We started with LinkedIn as that was where he was most comfortable. Using targeted searches and interactions, we were able to identify an active Customer Service community which he was able to join and contribute to.  Many of those people were also on Twitter so he would then follow those links there as well.  While initially hesitant to join Twitter, I am proud to say that he has been a A+ student, totally 'getting' how to use the tool and growing to the point of being able to manage it on his own!
To get him started, we created a series of posts based on the book content, formatted for LinkedIn, Facebook and Twitter. The Twitter posts were designed to include industry hashtags (such as #custserv, etc) wherever possible so he would be found by people searching on those terms. This helped grow his following and introduced him to a broad range of people, from around the world, with an interest in his expertise.
As he got more comfortable with social media and began to truly understand the importance of creating valuable content, he decided to start blogging.  I must admit I was THRILLED when he told me, as I knew it would be a huge boost to his growth and exposure and it has proved to be invaluable. His posts have been shared and re-posted numerous times and he has been profiled and asked to provide posts for a wide variety of reputable publications.
His Story:
Others have always considered me to be an excellent networker and extremely adept at creating and building relationships. However, with the advent of social media and specifically LinkedIn, I was a bit reticent about reaching out to people who I did not first meet in person, or who were referred to me by a friend. However, with Lisa's coaching I fully understood that people appreciated and valued hearing from other thought leaders. Additionally, I was able to connect with other leading experts from around the globe which would not have been viable via traditional networking, especially in a limited time frame.
The thought of using Twitter as a way to connect to others in the field of customer loyalty, also seemed a little mysterious. How could I possibly build a relationship with others, just using 140 characters? Once again, with Lisa's consultation and taking baby steps I was able to connect with over 1000 quality followers.
Basically, I learned that building relationships via social media is no different than meeting someone you like at a conference or a friend's cocktail party. It's been a great experience and has certainly further enriched my life.
Find and follow me on:
Facebook, Twitter, LinkedIn and on my Customer Service blog 
Richard's experience is a excellent example of how, once you embrace it, social media can really help expand your network exponentially and share your expertise worldwide.