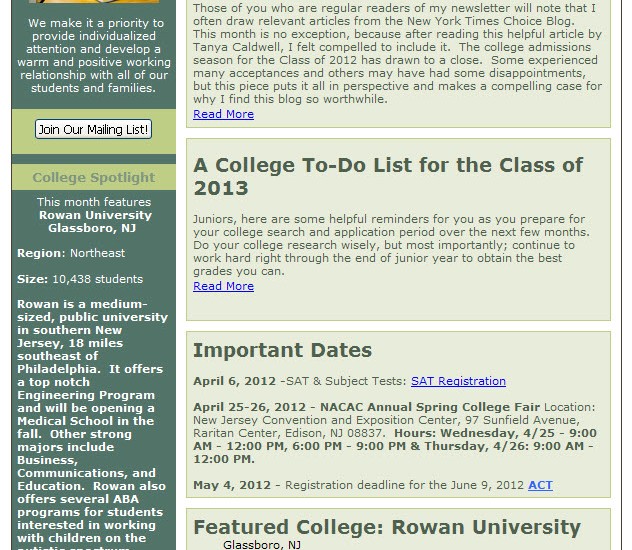 Name: Linda Kay M.A.
Company: Kay College Consulting
Background:
I met Linda Kay through NJAWBO (the NJ Association of Women Business Owners) back in 2009.  After meeting with her, I immediately knew that she was the type of person who could really make the most of an e-newsletter.  Even though she did not have a large support staff, she had EXCELLENT content, wrote beautifully and had the discipline and attention to detail to issue regularly!  The   template we created for her contains the same blocks each month which she then fills with her useful info and advice. This formula can work for many types of businesses – read on to see what you can learn from her success stories!

Business Overview:
Linda Kay is an independent educational consultant with a background in special education.  Her company, Kay College Consulting, prides itself in providing individualized college consulting services for students of all abilities.
Everyone who works with Kay College Consulting is offered personalized, caring service, and Linda makes it her priority to know each student's strengths, talents, interests and hopes. Students are helped to navigate the information superhighway that accompanies the college search process and plan appropriately for their future. Kay College Consulting is located in Parsippany, New Jersey, but can assist students and parents throughout the United States via iChat and Skype.
Students with learning differences are encouraged to develop independence and self-advocacy skills, are informed about various levels of support available in college, and offered suggestions of colleges and programs that will fit their needs. In addition, information regarding transitional and post-secondary school programs for students unable to attend a traditional college is provided to families.
Online Presence:
Linda developed a website when she began her private practice five years ago.  However, she needed a vehicle to disseminate information about the college process and draw readers and potential clients to her website.  We met, through a New Jersey Association of Women Business Owners event in the spring of 2009.  After learning about my business, Linda asked me to design a newsletter template for Kay College Consulting through Constant Contact.  I designed a template that complimented Linda's branding and website, and made suggestions for formatting the articles including two current issues of interest related to the college admissions scene, and one featured college each month.  On June 1, 2009, the first edition of the Kay College Consulting newsletter was launched, and Linda has maintained it on her own, on a monthly basis ever since.
Linda also has a Facebook Business page on which she posts articles of interest to students and parents engaged in the college application process.  A link to the Facebook Page is included in the newsletter.  Linda also uses the "Simple Share" button to send her news out over Twitter and Facebook.
Although she would like to do everything possible online, including Twitter and a blog, Linda realized that she needed to pick one platform on which to focus her energies.  The e-newsletter format is her primary means of communication, and it has drawn regular readers, who have told Linda that they look forward to receiving it each month.  The newsletter has also brought new clients and gives Linda a very visible and professional online presence.
Takeaways:
Linda has always been very focused and has done an excellent job of creating and delivering content of value on a regular basis to her readers. The e-newsletter is an excellent fit, giving her a platform to share her extensive expertise. Her e-newsletter template is set up to profile a different school each month.  Businesses of all types can use this tactic to showcase a series of products, techniques, artwork, etc. She also includes links of all kinds that are  helpful to both parents AND students going through this process.
See below for a sample of one of her past issues. The links are no longer valid but click here to sign up to receive future issues directly!