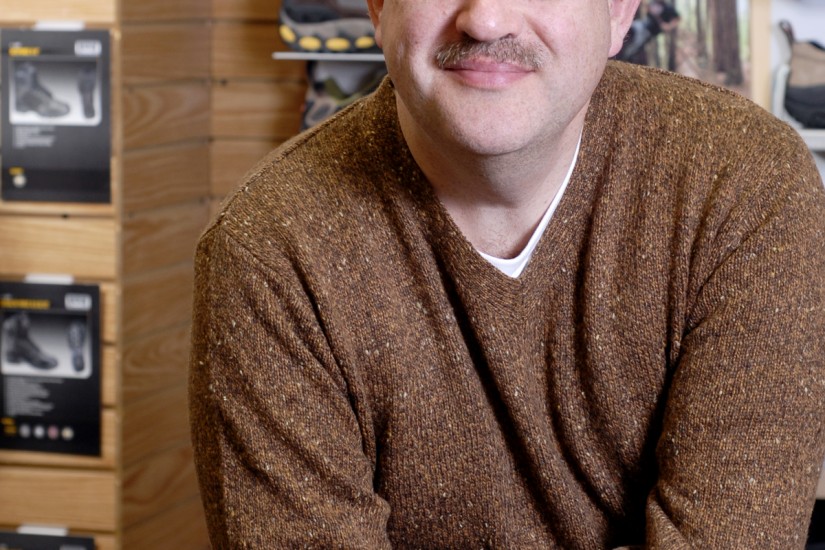 Name: Lee Lucas
Company: Bill's Army Navy Outdoors
Background:
Lee Lucas is the owner of Bill's Army Navy Outdoors, a full service shop in Short Hills for all of your Outdoor needs. In addition to a large selection of shoes, boots and active wear from well known brands like Northface,  Columbia, Merrill and Quicksilver, he also offers a huge array of unique items for camping, hiking, mountaineering, running, fishing, climbing and more. If you are going to be outside, for sports, pleasure or work, he will make sure you are prepared! His knowledgeable salespeople are always available to help customers find the perfect fit, explain the newest gadgets and make suggestions.  And usually, you can also find Lee, if he is in, his door is open – he loves talking about the items he carries, often has firsthand experience with the products and equipment and always has advice to share.  And yes, people do always call him Bill – click here for that story!

The Plan:
When I first met Lee, he had a well established, well respected business but very little online presence.  He had a website but it had not been updated in years. He had heard about Constant Contact and was interested in starting an e-newsletter.
Our first step was to update his website to serve as his online hub.  Then we created a branded e-newsletter template which, for the first few months, I put together and published for him but which he eventually took over. We also created an online flyer which he is able to use for sales and other promotions, especially through the holiday season.
The content plan was to have him share his knowledge of the products and to answer frequently asked questions. With so many new and interesting products coming into the store on a regular basis, he is never at a loss for things to feature and discuss.  He also includes a video in most issues, either one produced by one of the many brands he carries or a YouTube video of someone using or raving about one of the products. Sometimes he just includes a funny video that he knows his readers will appreciate.  Having been in the business and on the floor, engaging with his customers for so long, he really has a great sense of what interests them!
Once he was comfortable with that, we introduced a Facebook Business Page. While he was initially reluctant to join Facebook, he has taken to it well, posting frequently and engaging regularly. Again, his knowledge of the product and his familiarity with his customers and their needs makes this an easy task!
He has also started an online store, a huge project that is still in progress and our next endeavor will be to set him up with his own blog – "The Outdoor Pundit". Be sure to check out the samples of his e-newsletter below and sign up to receive them directly, to like his Facebook Page and to keep an eye out for his new blog.
His Story:
Constant Contact has worked out surprisingly well for a 40 year old, long in the tooth business. After repeatedly marketing the business the same old way it had been done over the years through newspaper ads, and direct mail, the light bulb finally went off. A quick call to Constant Contact in search of a local consultant who was versed in its application yielded LisaMarie's contact info.
Her patience with us, and the ease of operation, made professional results a reality right out of the box. To this date, we have experienced better than average open and click rates, according to Constant Contact's invaluable statistics. I credit the help we received from LisaMarie and the team at Constant Contact for these great results.
How has email marketing impacted our business? We moved from largely trading with rapidly aging "Baby Boomers" to a targeted customer 25-44 years old in a few seasons, which was necessary for the longer term strategy of moving our merchandise selection upwards, towards more premium outdoor apparel and goods. Sending out an email marketing blast, at times, seems like turning on a light switch; we are certain we see a noticeable bump in sales floor traffic in the week that follows. And the personal nature we take in its approach, has endeared us to many customers who let us know they appreciate the newsletter, judging by the many nice unsolicited replies we received each month.
The use of email marketing , combined with links to our website and mixing in a little bit of other types of social media, I'm certain has positioned us for continued success, while helping us jump the sometimes difficult strategic hurdle of staying relevant in a new day and age, with new and younger customers.
Here is an example of one of Lee's (Bill's) e-newsletters. Please click here to join his mailing list to keep up to date on all his new products, be notified in advance of sales and for an inside look at outdoor world!
For more Success Stories, see:
https://lisamariediasdesigns.com/blog/success-stories-linda-kay-kay-college-consulting
https://lisamariediasdesigns.com/blog/success-stories-richard-r-shapiro-author-customer-service-expert