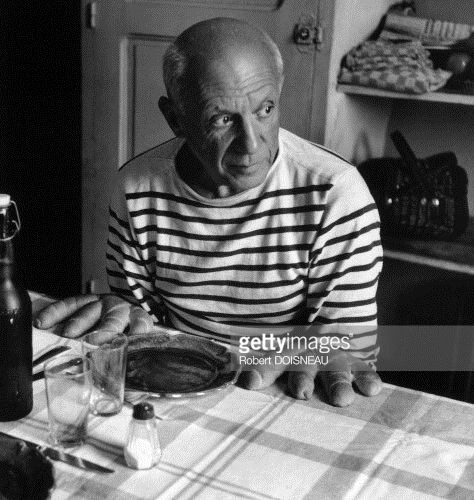 During my 'Overview of Social Media' presentations, people will often ask me, 'why would I ever want to post what I had for lunch?' Or, 'who cares what my food looks like?' I explain how these platforms allow us to both 'live out loud', sharing all aspects of our lives online as well as how they allow people to express their creativity.
This morning, I came across a photo of Pablo Picasso, shown above, having lunch in 1952. To me, it looked like something he would, if alive today, post on his Instagram feed or on his Tumblr! Note the playful placing of the croissants. This photo is a great example of how a creative person expressed their point of view and shared their view of the world, before the advent of social media. My guess is that today, this would be widely shared and 'liked' via social platforms.
While many of the images we find on visual platforms such as Instagram, Tumblr and the like, are not nearly as clever, they are, I believe, created and shared in the same spirit. Often, it is not just a posting about lunch, but a commentary on their view of the world.
Photo Credit: Robert Doisneau http://www.gettyimages.com/detail/news-photo/pablo-picasso-at-lunch-vallauris-1952-news-photo/119002355