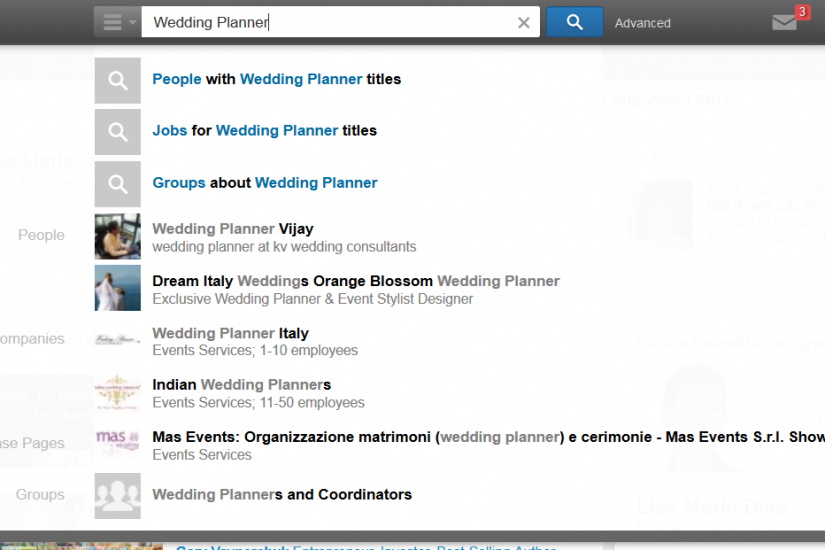 LinkedIn is an excellent tool to help you establish your expertise, to do research, network professionally and of course, to find a job and job candidates. It can also be valuable when looking for businesses to partner with. Here are some suggestions for how to use LinkedIn to find Strategic Partnerships.

[Tweet "Suggestions for how to use #LinkedIn to find #StrategicPartnerships."]
I always say, before you go onto a social media site for business, KNOW WHAT IT IS THAT YOU ARE LOOKING FOR. It is so easy to get sucked into just surfing around and following links until hours later you surface with nothing to show for your time! In this case, that means creating a list of the types and titles of people you would like to connect with.  Think about complimentary services. the ones your clients need that you do not offer. and see who might offer these without competing with you directly. Think of both the title and any keywords that might be related to that industry.
Hint, this will NOT be something like 'strategic partner'.
If you are a florist, you may want to partner with event planners or funeral parlor directors. Your list could include the words Events, Event Planners,Wedding Planning and Catering Venues. You might add Funeral Director, Funeral Parlor, Funeral Home and even Undertaker to your list. If you cater to communities who speak another language, consider adding terms in those languages, to your list. Brainstorm as many terms as you can as these keywords will help you gather a broad range of options.
If you have read my previous post on preparing your Social Media Mise En Place, you know that I will also recommend that you draft a quick note that you can copy and paste into the invitations you send to the people you find. This will make it easier to follow thru when you DO identify potential connections. Note that the message for the wedding planners may be slightly different from the one you send to the funeral parlor directors. In your note to the wedding planners, you might explain how you have excellent recommendations for weddings you have done, whereas with the funeral director, you might cite your quick delivery. Unfortunately, you are not usually able to include any hyperlinks in a LinkedIn invitation but once you are connected, definitely send them links to your portfolio or service pages to further explain how you can help them.
With the list of terms and your message drafts, you can then start plugging terms into the search bar at the top of the LinkedIn page.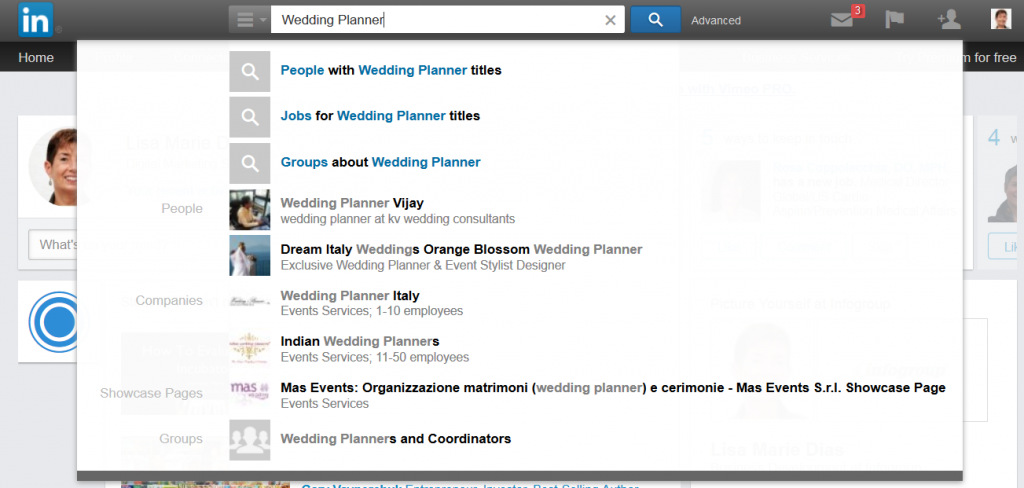 Note that as you start typing, LinkedIn may make some guesses at what you are looking for – check to see if these might be terms you should add to your list!
The results that come up will be from the ENTIRE LinkedIn community and will include PEOPLE as well as COMPANIES and GROUPS. I suggest starting with PEOPLE.
If you are a local business, you probably want to use LinkedIn to find Strategic Partnerships in YOUR local area.  To narrow the search to a geographic location, click on the location drop down and choose 'in or near' and then put in your zip code.
This will narrow your results greatly. If you are NOT a local business, you may want to think 'outside the zip code' and see what connections you can make!
Once you have your results, check for first degree connections.  LinkedIn will tell you, the the lower end of the left sidebar (as shown above) how many 1st, 2nd, 3rd and group connections are on the list. Obviously, if you have a first degree connection, by all means reach out to them and see if they might be interested in partnering with you. Then, move on to your second degree connections.
Check out their LinkedIn profiles, their LinkedIn company page and their website. See if they sound like they serve the same, or similar, audience or community. See if their mission aligns with yours. If they feel like a good potential fit, check who you know in common and see if you can have that mutual link make an introduction. You might even want to call the mutual link and see if THEY think this could be a good fit. See what you can learn about the new connection and do some research. If you see that they do big events at a venue you are familiar with, mention that in your invitation. Use the power of LinkedIn to identify the possible strategic partners but do your homework, on and offline, to learn what you can to make sure that it is someone you do want to meet before you send the invitation. This will also help to set yourself up for an acceptance of your invitation.
Do the same with the third degree connections found in the results. You will probably need to do more research to find an email address to send the invitation to any of these. Always check the person's profile and company page first as they may include their email address there to facilitate connections.
With groups, check to see who the members are and read the recent posts. If it looks like a good fit, you may want to try to join the group and begin contributing. Contributing does NOT mean, storming in and advertising what you do. It means reading thru the posts and commenting on the ones where you can. Introducing yourself and offering your assistance. Keep in mind that these are real people – treat it as if you were walking into a meeting with them. You wouldn't walk in, stand up on the table and start trying to sell them. You would (hopefully) walk around introducing yourself, learning about the members and making conversation. Remember, we are looking for potential strategic partners here – interact in a way that will attract possible candidates.
Doing this for each term or keyword should help you identify more than enough leads. Then it is up to you to narrow them down and to follow through. LinkedIn is a great tool for finding potential strategic partners, please let us know how YOUR search goes!
And keep in mind that the people you connect with with be checking out YOUR LinkedIn profile as well. If your profile is not something you are proud of, check out our LinkedIn Optimization packages for a quick and affordable way to get YOUR profile up to speed! https://lisamariediaslinkedinscheduling.acuityscheduling.com/