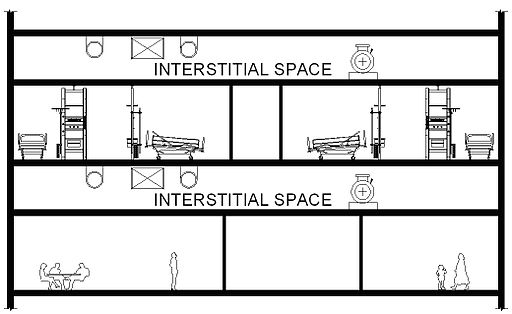 One of the biggest challenges to successfully using Social Media for business, is finding time to MANAGE your social media presence on a regular basis. Here are some suggestions on how to best use 'interstitial space', those free minutes during your day, to effectively manage your social media presence.
As some of you may know, I was originally trained and licensed as an architect. As such, the term 'interstitial space' was used to refer to the area, above the ceiling but below the structural deck. The sketch above is a section view, showing the extent of the interstitial space above the ceiling.  This area is usually used to route the HVAC ductwork, lighting fixtures and wiring. Interstitial space may not be visible, but it is extremely valuable!
You too, may have some 'interstitial space' in your day. Time during your commute or moments when you are in front of your computer but on hold on the phone. Or when you are waiting in line at a store or to pick up coffee, lunch or a child. You are probably already picking up your phone or tablet during these moments but you are probably just mindlessly scrolling through your Facebook or Tumblr stream rather than using the time productively. Here are some ideas on how to use that time more effectively.
Finding time to MANAGE your social media presence
Click To Tweet
First, be sure that you have up to date apps for all of the platforms you will be monitoring, on the devices you will use. When on a desktop computer, surfing to the platform is most effective but when on a phone or tablet, mobile apps will give you a cleaner interface (less scrolling, larger links and buttons to click) and will usually streamline your experience. If you infrequently use the apps and find them buggy or displaying poorly, check to see that you are using the most up to date version. A quick update will usually be enough but if not, try UN-installing and re-installing the app.
In addition to the platform applications (Facebook, LinkedIn, etc), if you use Pinterest, you may also want to download the Pinterest 'pin it' app on your mobile device as this will be extremely valuable for pinning on the go.
I also recommend setting yourself up with a tool like Scoopit, Pocket, Evernote, the Hootlet app or the like so you have the ability to bookmark, read and share content at a later date.
Once set up, here are some ideas of ways to use those interstitial moments for effectively managing your social media presence.
Visit LinkedIn:
Read through your newstream looking for posts you can LIKE, COMMENT on or SHARE

think of this as a mini networking 'event' and the comments you see in your news stream as the comments made by the people who are also at this networking 'event'! Respond and engage as if you were face to face with the person. Think of other people you may know who might find the information interesting and forward it to them using the 'share' feature. When you click on the 'share' button, you have the option of sharing with your network as an update of your own, posting to a group and/or sharing with an individual. Using the live networking event analogy, if I mentioned to you that I teach classes on how to use LinkedIn and you knew of someone who needed this help, hopefully, you would introduce us or at least pass along my information to that person. Standing in line at your local coffee shop, if you saw a post about an upcoming LinkedIn class of mine, you could 'share' it with the colleague, including a note saying something like, 'I know that you want to learn more about LinkedIn, here is a class by a person I know and trust'.
Use your time to really reply to and ENGAGE with one or two people rather than just mindlessly scrolling thru the list of updates. I advise SKIPPING over the news that LinkedIn is suggesting at the top and jumping to the updates made by your colleagues.
If you see that someone changed jobs or received a promotion, take that time to send a quick note to congratulate them

You can quickly use LinkedIn to reply to the post but you may want to actually take a moment to send an EMAIL – something the recipient would probably notice and appreciate!
Visit your LinkedIn groups

to get to groups from your mobile device, click the IN icon at the top upper left corner of your screen
Yes, some groups can be a spam fest – use this time to scroll thru and see if there is anything of interest there. Like, comment and share anything of value.
If there is nothing of value, leave the group. If using the Android app, you are not able to do this on your mobile device but make a note to yourself to do it next time you are on the desktop version.
Check the 'people you may know' suggestions

Take a few minutes to look through the suggestions and connect with key people. Remember to PERSONALIZE the invitations to optimize your chances of being having the invitation read and accepted!
Visit Twitter:
Read through your newstream looking for tweets you can REPLY to, ReTWEET or FAVORITE

Replies, if you hit the reply key, will only be seen by the recipient and in your tweet stream. A reply is essentially a tweet which is addressed to someone in particular. It is NOT the same as a MESSAGE which IS private.  Use replies to thank someone for a shoutout or share and/or to get someone's attention.
A ReTweet is a way to share a tweet you see in your newstream, with all of YOUR followers. It goes out as if it was a tweet of your own but automatically references the original tweet and the tweet's originator.
Favorites can be funneled to a feed on your website or that of someone else. You could set up a feed on your website to display every tweet you favorite. Or you can use 'favorites' as a way to keep track of tweets you may want to refer to at another time (go to your own profile and at the top bar, with your followers and following stats, there is a hot link to all YOUR favorites). You can also use it like a virtual 'like' button for tweets you see and like!
 Start a conversation

One of the nice things about Twitter is that it is LIVE and STREAMING 24/7 – and if you see a tweet posted, there is a good chance that you can reply to it on the spot and engage with the person! Take advantage of this and try to engage with a person or two, in real time, on a topic of interest!
Visit Facebook (Your BUSINESS PROFILE, not your personal profile!):
Read through your newstream looking for posts you can LIKE, COMMENT on or SHARE

 Re-connect and Disconnect

Use this time to  virtually 'visit' with one of your 'fans.' And if you are tired of seeing someone's posts, unlike LinkedIn, you CAN 'un-friend' and 'unfollow' from the mobile apps. Take this time to prune those posts, making your stream something you look forward to, rather than dread!
Visit G+:
Read through your stream and +1 and/or share some content
Read through one or two of the longer posts you never have time for


A nice feature of G+ is that you are allowed to write longer posts and people take the time to leave longer replies. Take some time to actually read through a thread and add a comment of your own!
 Explore

G+ is one of those platforms that gets better the deeper you explore. Take a few minutes to check out someone's profile and then check out their You Tube videos and/or the posts that they have +1'd
Visit Pinterest:
Read through your home feed and 'heart', send and/or repin some content
Pin content from your own website and blog, to your boards

 Explore

I put this platform last as I find it to be the one that is easiest to get TOTALLY and irretrievably lost in. I love it but find that it is the one which is most likely to suck me into the 'NOTworking' (vs NETworking) vortex. If Facebook is YOUR Kryptonite or you know you just cannot visit there without checking your personal profile then put THAT last on YOUR list.
Catch up on your reading:
I check my social profiles throughout the day and often find articles that look interesting but I don't have the time, just then, to read them in full. I use Feedly to bookmark articles like this so I can read them later. These interstitial moments are a good time to catch up on that reading. Sometimes I will email the link to myself, instead, so I have it readily available when I have a few minutes free.
Run a search:
Depending on how much time you have and (and your facility with a mobile keyboard if you are using your phone), you may want to run a SEARCH on any platform. Know what keywords attract the people/ content/ companies you are interested in and use those to pull up real time posts and tweets.
REMEMBER: This is not about the QUANTITY of items you can scroll past but the QUALITY of interactions you can have!
There are literally hundreds of other tasks you can perform during those interstitial moments which will help YOU engage and get the most out of your social media presence. Please give me a call at 212.664.1872 if YOU need help finding time to manage your social media presence!
Image Credit: By Ckr5000 (Own work) [GFDL (http://www.gnu.org/copyleft/fdl.html) or CC-BY-SA-3.0-2.5-2.0-1.0 (http://creativecommons.org/licenses/by-sa/3.0)], via Wikimedia Commons