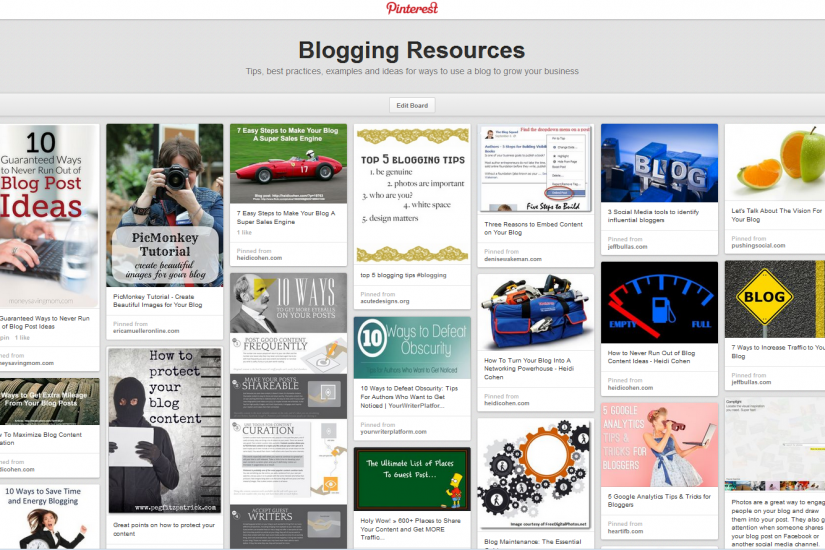 NOTE: Please see my Pinterest Board for Blogging Resources for up to date tips and resources  http://www.pinterest.com/lisamariedias/blogging-resources/
As of October 31, 2011 Facebook will no longer support 'Discussion' tabs on their FB Pages.  I have always used that page for posting resources and links and will now move them over to my blog so that you will continue to have access to this valuable info.

Below you will find an eclectic mix of blogging links and resources – posts, stats and articles all related to Blogging.  Please note the date as some of them are from months, if not years, past but all contain info that is helpful in some way and are a great starting point for learning more about how to start and optimize your own blog.
How to start a blog – Step by step instructions
http://startbloggingonline.com/
Excellent article including 'the 7 Harsh Realities of Blogging'
http://outspokenmedia.com/internet-marketing-conferences/blogworldexpo-2010-day-3-recap/
7 things that your Blog Sidebar can't live without – good suggestions!
http://blog.hubspot.com/blog/tabid/6307/bid/6759/7-Things-Your-Blog-s-Sidebar-Can-t-Live-Without.aspx?source=Blog_Email_%5B7+Things+Your+Blog%E2%80%99s%5D
3 Not So Obvious Things Your Blog Needs
http://www.openforum.com/idea-hub/topics/marketing/article/3-not-so-obvious-things-your-blog-needs-ann-handley
On the 'dark side' of blogging. The downside of becoming a 'famous' blogger.
http://outspokenmedia.com/blogging/are-you-prepared-for-bloggings-dark-side/
More blogging ideas and advice
http://www.jeffbullas.com/2010/09/10/69-ideas-for-your-blog-to-make-the-dead-take-notice/
Interview with successful blogger Adam Mills
http://thecommscorner.blogspot.com/2010/08/vroom-man-behind-one-of-f1s-fastest.html?utm_source=feedburner&utm_medium=email&utm_campaign=Feed%3A+TheCommsCorner+%28the+COMMS+corner%29
My Blog Guest – a directory for guest bloggers
http://myblogguest.com/
4 Business Blogging Lessons From Google's Chief Blogger – Great advice!
http://blog.hubspot.com/blog/tabid/6307/bid/6285/4-Business-Blogging-Lessons-From-Google-s-Chief-Blogger.aspx
Blogging suggestions for the travel and tourism industry
http://problogservice.com/2010/07/26/fou-blogging-tips-for-travel-and-tourism-destinations/
Why people blog – I think that I would go a step further and say that if you don't have the #1 reason, you will not be able to succeed with your blog.
http://www.jeffbullas.com/2010/07/23/12-reasons-why-people-blog/
5 reasons your blog isn't growing – good reminders!
http://www.bloggodown.com/2010/07/5-reasons-your-blog-isn%E2%80%99t-growing.html
Useful article on comment management tools for your blog
http://www.toprankblog.com/2010/04/comment-management-tools/
52 Blogging tips and suggestions – excellent post!
http://www.stumbleupon.com/su/2Yx8KY/www.spinsucks.com/social-media/blogging-tips-52-different-ideas/
3 simple ways to re-purpose your blog posts for more exposure – via the social media examiner
http://www.socialmediaexaminer.com/3-simple-ways-to-repurpose-your-blog-posts-for-more-exposure/
Who are you blogging for? Maybe the answer should be 'for myself'…
http://michaelhyatt.com/2010/06/forget-your-blog-stats-and-just-write.html
Fabulous advice on finding your 'voice' when writing.
http://www.copyblogger.com/writing-voice/
5 types of posts to round out your offerings – good suggestions
http://blog.hubspot.com/blog/tabid/6307/bid/6084/5-Types-of-Posts-to-Create-a-Balanced-Blog.aspx
Excellent guidelines for becoming a better (he calls it 'A'-list) blogger
http://www.problogger.net/archives/2010/06/10/7-signs-of-an-a-list-blogger-in-the-making/?
77 ideas for great email and blog content – http://www.edrivis.com/?p=517
Great tips via Hubspot
http://www.dailyblogtips.com/finding-motivation-during-the-early-months-of-your-blog/
Overcoming Blogging's Fear Factor
http://www.businessesgrow.com/2010/12/05/overcoming-bloggings-fear-factor/?utm_source=feedburner&utm_medium=email&utm_campaign=Feed%3A+markgrow+%28{grow}%29
5 Ways to make your blog stand out from the crowd
http://www.socialmediaexaminer.com/5-ways-to-make-your-blog-stand-out-from-the-crowd/
30 inspiring ideas to develop content for your blog
http://www.jeffbullas.com/2010/12/17/30-inspiring-ideas-to-develop-content-for-your-blog/
44 Blogging questions answered – amazingly generous tips and suggestions!
http://kikolani.com/blogging-questions-answers.html
Quick and Dirty Legal Guide for Bloggers from Outspoken Media
http://outspokenmedia.com/blogging/blogging-laws/
Excellent post on how and why to use Google Reader for keeping track of and commenting on blogs. LOVE the tip about the twitter handles!
http://kikolani.com/how-i-organize-google-reader-for-blog-commenting.html
Free Stock Photos: 74 Best Sites To Find Awesome Free Images
https://designschool.canva.com/blog/free-stock-photos